Liveaboards, Phuket, Thailand with MV Scuba Adventure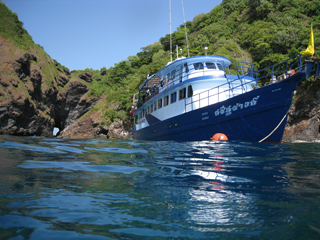 MV Scuba Adventure is a personal boat with limited numbers of divers and so offers a more personal service, with dive sites tailored to the needs of those on board. The guides have been diving these waters for many years and the crew has remained the same for a long time; so she is well run, has fantastic food and great guides.
1st February 2013 to 13th May 2014
Equipment rental 500 Baht for full set per day.
Nitrox available at 200thb per tank (up to 40%)
If Nitrox pre booked for all dives 25% discount applies.
Boat charters are available on request please contact us for further details.
| | | | | |
| --- | --- | --- | --- | --- |
| 01-Feb | 05-Feb | Sim/RR | 4/4 | Chalong/ TL |
| 07-Feb | 11-Feb | Sim/RR | 4/4 | TL / Chalong |
| 11-Feb | 14-Feb | Hin Daeng | 3/3 | Chalong |
| 16-Feb | 19-Feb | Hin Daeng | 3/3 | Chalong/ TL |
| 19-Feb | 23-Feb | Sim/RR | 4/4 | TL |
| 25-Feb | 01-Mar | Sim/RR | 4/4 | TL / Chalong |
| 01-Mar | 04-Mar | Hin Daeng | 3/3 | Chalong |
| 06-Jan | 09-Mar | Hin Daeng | 3/3 | Chalong |
| 09-Mar | 13-Mar | Sim/RR | 4/4 | Chalong/ TL |
| 15-Mar | 19-Mar | Sim/RR | 4/4 | TL / Chalong |
| 19-Mar | 22-Mar | Hin Daeng | 3/3 | Chalong |
| 24-Mar | 27-Mar | Hin Daeng | 3/3 | Chalong |
| 27-Mar | 31-Mar | Sim/RR | 4/4 | Chalong/ TL |
| 02-Apr | 06-Apr | Sim/RR | 4/4 | TL / Chalong |
| 06-Apr | 09-Apr | Hin Daeng | 3/3 | Chalong |
| 12-Apr | 15-Apr | Hin Daeng | 3/3 | Chalong |
| 15-Apr | 19-Apr | Sim/RR | 4/4 | Chalong/ TL |
| 21-Apr | 25-Apr | Sim/RR | 4/4 | TL / Chalong |
| 25-Apr | 28-Apr | Hin Daeng | 3/3 | Chalong |
| 30-Apr | 03-May | Hin Daeng | 3/3 | Chalong |
| 05-May | 08-May | Hin Daeng | 3/3 | Chalong |
| 10-May | 13-May | Hin Daeng | 3/3 | Chalong |
14th November 2014 to 2nd May 2015
| | | | | | |
| --- | --- | --- | --- | --- | --- |
| SA01 | 14th Nov | 17th Nov | Hin Daeng | 3/3 | Chalong |
| SA02 | 18th Nov | 21st Nov | Hin Daeng | 3/3 | Chalong |
| SA03 | 21st Nov | 25th Nov | Sim/RR | 4/4 | Chalong/TL |
| SA04 | 26th Nov | 30th Nov | Sim/RR | 4/4 | TL / Chalong |
| SA05 | 30th Nov | 3rd Dec | Hin Daeng | 3/3 | Chalong |
| SA06 | 5th Dec | 8th Dec | Hin Daeng | 3/3 | Chalong |
| SA07 | 8th Dec | 12th Dec | Sim/RR | 4/4 | Chalong/ TL |
| SA08 | 13th Dec | 17th Dec | Sim/RR | 4/4 | TL / Chalong |
| SA09 | 17th Dec | 20th Dec | Hin Daeng | 3/3 | Chalong |
| SA10 | 21st Dec | 24th Dec | Hin Daeng | 3/3 | Chalong |
| SA11 | 24th Dec | 28th Dec | Sim/RR | 4/4 | Chalong/ TL |
| SA12 | 29th Dec | 2nd Jan | Sim/RR | 4/4 | TL / Chalong |
| SA13 | 2nd Jan | 5th Jan | Hin Daeng | 3/3 | Chalong |
| SA14 | 6th Jan | 9th Jan | Hin Daeng | 3/3 | Chalong/ TL |
| SA15 | 9th Jan | 13th Jan | Sim/RR | 4/4 | TL / Chalong |
| SA16 | 16th Jan | 20th Jan | Sim/RR | 4/4 | TL/Chalong |
| SA17 | 20th Jan | 23rd Jan | Hin Daeng | 3/3 | Chalong |
| SA18 | 24th Jan | 27th Jan | Hin Daeng | 3/3 | Chalong |
| SA19 | 27th Jan | 31st Jan | Sim/RR | 4/4 | Chalong/ TL |
| SA20 | 1st Feb | 5th Feb | Sim/RR | 4/4 | TL / Chalong |
| SA21 | 5th Feb | 8th Feb | Hin Daeng | 3/3 | Chalong |
| SA22 | 11th Feb | 14th Feb | Hin Daeng | 3/3 | Chalong |
| SA23 | 14th Feb | 18th Feb | Sim/RR | 4/4 | Chalong/TL |
| SA24 | 19th Feb | 23rd Feb | Sim/RR | 4/4 | TL / Chalong |
| SA25 | 23rd Feb | 26th Feb | Hin Daeng | 3/3 | Chalong |
| SA26 | 27th Feb | 2nd Mar | Hin Daeng | 3/3 | Chalong |
| SA27 | 2nd Mar | 6th Mar | Sim/RR | 4/4 | Chalong/ TL |
| SA28 | 7th Mar | 11th Mar | Sim/RR | 4/4 | TL / Chalong |
| SA29 | 11th Mar | 14th Mar | Hin Daeng | 3/3 | Chalong |
| SA30 | 17th Mar | 20th Mar | Hin Daeng | 3/3 | Chalong |
| SA31 | 20th Mar | 24th Mar | Sim/RR | 4/4 | Chalong/ TL |
| SA32 | 25th Mar | 29th Mar | Sim/RR | 4/4 | TL / Chalong |
| SA33 | 29th Mar | 1st Apr | Hin Daeng | 3/3 | Chalong |
| SA34 | 2nd Apr | 5th Apr | Hin Daeng | 3/3 | Chalong |
| SA35 | 5th Apr | 9th Apr | Sim/RR | 4/4 | Chalong/ TL |
| SA36 | 10th Apr | 14th Apr | Sim/RR | 4/4 | TL / Chalong |
| SA37 | 14th Apr | 17th Apr | Hin Daeng | 3/3 | Chalong |
| SA38 | 20th Apr | 23rd April | Hin Daeng | 3/3 | Chalong |
| SA39 | 23rd Apr | 27th Apr | Sim/RR | 4/4 | Chalong |
| SA40 | 29th Apr | 2nd May | Hin Daeng | 3/3 | Chalong |
| | | | | | |
| 3D/3N | 19,000 | 21,500 | 11,000 | 12,500 | |
| 4D/4N | 24,000 | 26,000 | 15,000 | 17,000 | |
Notes
Nitrox 300thb per tanks
Marine park fee's 500thb to enter the park, plus 200thb per day to use the park
* Trip plus the course in twin share room
| | | | | | |
| --- | --- | --- | --- | --- | --- |
| Phi Phi | 10,500 | 11,000 | 16,500 | 15,500 | n/a |
| Hin Daeng | 18,000 | 19,500 | 28000 | 26500 | 36500 |
| Similan & Richelieu | 23,000 | 25,000 | 33000 | 31500 | 41500 |
| special 6D/6N | 34,500 | 37,500 | 43500 | 43000 | 53000 |
| Sim & RR & Hin Daeng | 37500 | 41000 | 47500 | 46000 | 56000 |